Resilience Cap:
1230 resilience
The resilience cap refers to the maximum amount of dot, mana drain, and crit damage protection one can get. 1230 resilience reduces the chance to be crit and damage taken from dots by 15%, the mana lost to mana drains by 30%, and the damage taken from criticals by 33%. Resilience over this amount affects only the chance to be crit.
Hit Cap:
105 hit
vs most targets
158 hit
vs Draeni/Undead/BE (hit is currently broken with racials, but this is supposedly fixed in 3.0.8)
We fixed a bug in 3.0.8 where the racial spell hit bonus was applied after the other modifiers were added, meaning that you could not cap yourself above it. Now if you really want to hit races with certain spells you can.
Spell Pen:
WotlK Shadow Resistances
160
Felhunter (all specs)
140
Mage (80 Magic Absorbtion, 60 talented Mage Armor)
130
Shadow Protection
54
MotW
0
Warlocks
The resistances formula at 80, for binary spells (which includes fear and mana burn), is:
%_resist_chance = (resistance - spell_pen) * (15/80)
For targets with the applicable resistance, spell pen to eliminate resistance based resists is much more valuable than spell hit to eliminate the default miss chance.
               Amount needed to have a 1% better chance to land a spell
Penetration    5.3
Hit Rating     26.2
However, when the target has no resistances, spell pen is useless. There is no holy resistance stat, only shadow resistance applies vs. priests.
Spirit vs. MP5:
Spirit isn't as good at level 80 as it was at 70 (
http://www.arenajunk...ead.php?t=47913
). For two items giving equal item values of Spirit and MP5 (2.5 spirit to 1mp5, see
Hateful Gladiator's Cloak of Deliverance
vs
Hateful Gladiator's Cloak of Salvation
), it's generally better to go with the mp5 regen. The actual value of spirit in mp5 depends on your int and the % of the time you spend inside the five second rule, and can be seen in this chart:
Note: Chart assumes you have full Meditation... if you don't, get it. Also, specs like Enlightenment and Spirit of Redemtion, int buffs, and the human spirit racial should be taken into account as slightly buffing spirit. And if you are getting an innervate, that's a lot of extra value from spirit as well.
After patch 3.1, spirit will unequivocally suck.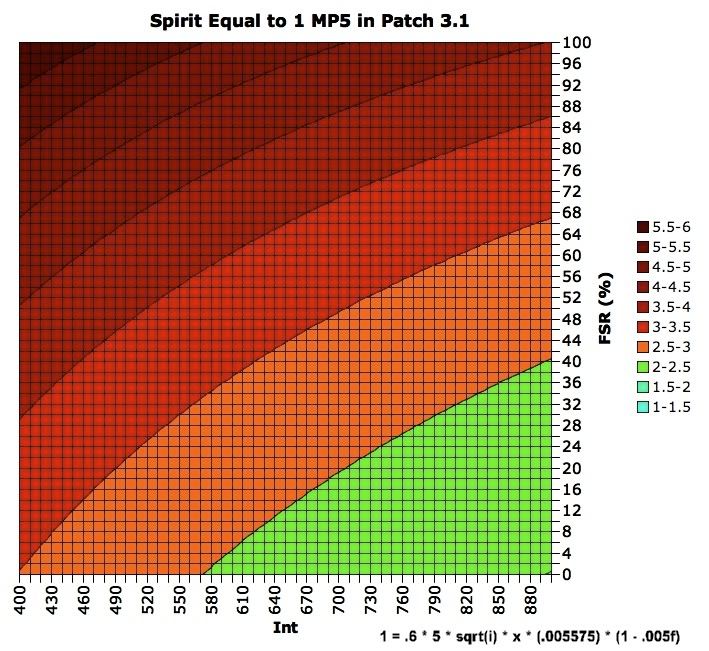 Haste:
1% haste =
32.79 haste rating


Insightful Earthsiege Diamond:
The new mana proc meta is 33% better at 80 than the level 70 version (while it had the 2% proc rate). Two ways of looking at its value are:
1) With 600 mana restored on 2% of casts, this is equal to an average reduction of 12 mana from the cost of every spell cast. That is .31% of base mana, so the cost reduction of various spells are (for untalented mana costs):
			% Mana Cost Reduction
Shadow Word Death       2.6
Dispel                  2.2
Renew                   1.8
PWS                     1.3
GHeal                   1.0
2) Depending on the frequency of casts, you can convert the average proc rate into mp5:
Casting every           MP5
1.5sec                  40
2.0sec                  30
2.5sec                  24
3.0sec                  20
3.5sec                  17
4.0sec                  15
Expected Stats in Full Deadly (Pre-enchants and Gems)
Note: approximate

689 int
(792 with Mental Strength)
1257 sta
(1320 with Enlightenment)
790 resil
(800 with socket bonuses)
1474 spellpower2030 armor19350 hp
(19980 with Enlightenment)
13918 mp
(15463 with Mental Strength)
Remember, these are just base values without any enchants and gems!
				    Int      Stam     Resil    Spellpower   Armor
LvL 80 Base Stats (UD)              172       68                             106 (from agi)
Deadly 5-Piece                      224      515      271      452          1250
Set Bonus                                             50
Deadly Offset                       103      236      137      222           520
Deadly Jewelry and Cloak            111      255      144      191           154
Medallion of the Horde                                 84
Battlemaster (Spellpower version)                              111
Deadly Weapons (Staff + Wand)        79      183      104      498

                                    689     1257      790     1474          2030
todo: