It seems that holinka saw
this video
and finally understood that ret was very vulnerable to CCs
I hope that we will be able to stack the wings 50% cc duration reduction buff with the new glyphed freedom 25% cc duration reduction buff :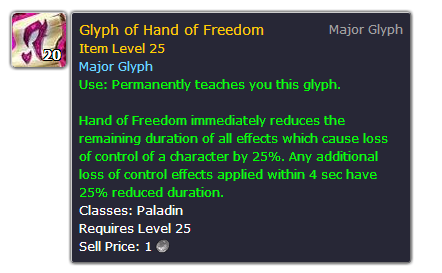 According to my calculations with wings+glyphed freedom buffs up a 6 secs spammable cc like fear/poly/clone would only last 2.25s (6*0.5*0.75=2.25) which is very good.
With Hand of sacrifice CD being reduced by 30s thanks to the new perk passive we will also be able to remove magical CCs on our partners more often. Maybe there will be a niche for ret as an "anti-cc" support/burst spec.
The only thing I'm concerned about is ret CCs because they removed blinding light. It's impossible for a melee class to cast a 1.8s fear/repent so that basically leaves us with a 30s cd fist of justice as our only reliable CC.
To conclude, I hope ret will be a more popular spec in wod.
Regards.