We are working on a new look and some really cool new features, but the thing that is really keeping us stumped is putting together a new logo for the header. Instead of beating our heads against the wall, we figured we would see what you guys can come up with.
Clarifications: (Updated 2/24/08)

1) You can submit an individual logo or a logo in a header showcasing it. Since we want to make a header with the logo, a header showcasing it would be preferred but not required.
2) We are looking for a logo to brand the site with and we want to be able to the logo you create in both the header and any apparel that we may want to put it on. You are welcome to design it as large as you want, but it needs to still look good when shrunken down into a header or on a shirt.
3) What you submit needs to be an original work so that we don't run into copyright issues using it.
4) Nothing from the original logo needs to stay. The new logo will be going onto a new site layout and you are welcome to change both the font and the slogan.
The contest is still open and has extended until Sunday 3/9/08. All logos submitted before Monday morning will be evaluated. On Monday, we will have a silent vote to get some feedback from the community.Evaluation Criteria:
1)
Logo
- This is first and foremost a logo contest, so we want make sure the logo works outside of the header it is presented in.
2)
Legality
- We want to be able to brand the site with the winning logo, so anything that Blizzard has the rights to won't be suitable outside of the header. Ultimately, the winning submission will have to meet this criterion.
3)
Aesthetics
- Does it look good?
4)
Concept
- Do we like the idea behind the logo? Does it fit the site?
5)
Bonus Points: Header
- We gave a small amount of bonus points for those who were able to fit it in the header. It is not required to put it in a header for us, but it helps give us context for the logo on the website.
Here are the current front runners (in no particular order) based on the criteria above:Kalthrân
Pro - Looks really nice with a creative layout.
Con - Legality issues concerning the use of Blizzard source material.
Airu
Pro - Unique artwork, looks nice.
Cons - Not sold on the font.

Ellic
Pro - Unique Design that emphasizes "AJ" branding.
Con - Visuals don't tie into what the site stands for.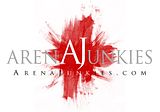 Remedios
Pro - Really like the concept.
Con - Could be cleaned up a bit, would like to see some color scheme variations.
Peavy
Pro - Recognizable and fits the site.
Con - Too similar to WoW logo.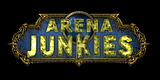 Submissions in the order they were received:
1) Theondrius
2) Magdain
3) Peavy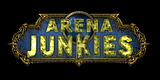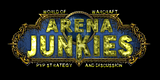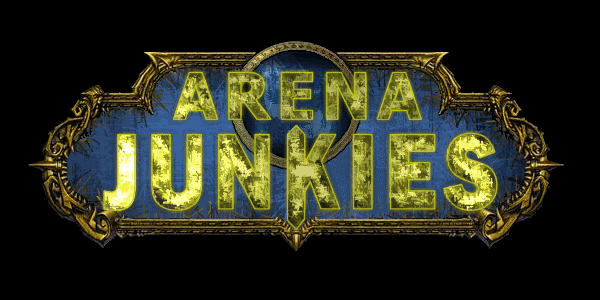 4) Alphatier
5) Béhemoth
6) Slappywag
7) Kitsune
8) Hamlord
http://hem.bredband....et/ajbanner.jpg
http://hem.bredband....ajbannertva.jpg
9) Treisk
10) Cova
11) Ouka
http://www.saphfire-...enajunkies1.png
http://www.saphfire-...enajunkies2.png
http://www.saphfire-...enajunkies3.png
http://www.saphfire-...enajunkies4.png
http://www.saphfire-...s/arenalogo.png
http://www.saphfire-...oads/logoaj.png
12) Kessen
13) Kahoona
http://img.apexcliqu...es/ajbanner.jpg
http://img.apexcliqu...iles/ajlogo.png
http://img.apexcliqu...les/ajlogo1.png
14) Arglen
15) Ellic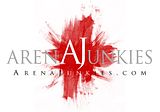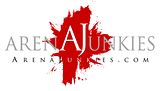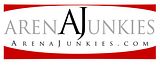 16) Fhelan
17) Frapbeasite
18) Nekrah
19) Remedios
20. Airu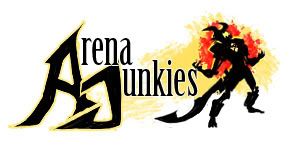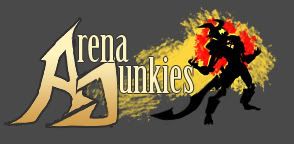 21. Nekrah
22. Kalthrân
23.Castbreeder
24. Seonho
25. Neon
26. Scotcolumbus
27. Andigx
28. Hayate
29. Nadjaa
30. Frostedstank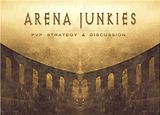 31. Rayinn
32. Iradeonlolz
33. Anik
34. Hulie

35. Maladroit
36. Thoradin
37. Krulgg
38. Quenthell
39. Tmes
40. Stabbles
41. Lotus
Prizes:
If we decide to use your logo you will receive the following:
1) 60-Day World of Warcraft Game Card
2) Arena Junkies T-Shirt featuring your logo.
3) Premium Subscription
4) A Front Page News Article to show off your incredible skills and link to your website (blog, guild page, personal site, etc.).
By posting your logo in this thread, you agree to the rules listed below.
Official Rules:
1) You are allowed unlimited submissions and revisions. All submissions and revisions must be posted in this thread to be considered.
2) The contest will stay open until 03/07/2008 unless a winning logo is chosen before that date.
3) We reserve the right to end the contest without choosing a winning logo if we are not satisfied with the submissions.
4) You agree that the winning design will become the property of arenajunkies.com and that we may use it as we see fit, including by not limited to, modification, use on this website, and Arena Junkies branded merchandise.