Just a reminder that there is still one more week remaining to submit your logo for the
logo contest
. It has been a week since it started, and we have been amazed by what has been submitted so far. There are a lot of talented people who browse our site.
We wanted to give everyone some feedback on the logos thus far. We evaluated the logos on the following criteria:
1)
Logo
- This is first and foremost a logo contest, so we want make sure the logo works outside of the header it is presented in.
2)
Legality
- We want to be able to brand the site with the winning logo, so anything that Blizzard has the rights to won't be suitable outside of the header. Ultimately, the winning submission will have to meet this criterion.
3)
Aesthetics
- Does it look good?
4)
Concept
- Do we like the idea behind the logo? Does it fit the site?
5)
Bonus Points: Header
- We gave a small amount of bonus points for those who were able to fit it in the header. It is not required to put it in a header for us, but it helps give us context for the logo on the website.
Here are the current front runners (in no particular order) based on the criteria above:
Kalthrân
Pro - Looks really nice with a creative layout.
Con - Legality issues concerning the use of Blizzard source material.
Airu
Pro - Unique artwork, looks nice.
Cons - Not sold on the font.
Ellic
Pro - Unique Design that emphasizes "AJ" branding.
Con - Visuals don't tie into what the site stands for.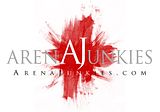 Remedios
Pro - Really like the concept.
Con - Could be cleaned up a bit, potentially some color scheme variations. Would also like to see it as an unique interpretation and not exactly in likeness to the original Colosseum)
Peavy
Pro - Recognizable and fits the site.
Con - Too similar to WoW logo.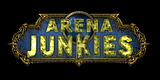 If you would like feedback on your submission, feel free to shoot me a PM and we can give you a more detailed explanation of what it would take to make your submission win. Again, great job so far everyone